Why Is Surveying Important?
A professional land surveyor can take your property's deed description and mark out those locations on the ground with precision and detail. We understand in a person's life the act of purchasing land is an enormous investment. A professional land surveyor can mark out your investment on the ground as well as provide you with a useful detailed map that will be filed as a public record. This map will provide you with the necessary information to be aware of the proper placement future improvements on your property should go. Having this knowledge will help you avoid costly expenses that may arise from having to move improper structures down the road.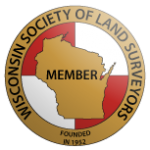 Team With Us
What our surveyors will do for you!
– Determine what type of survey you need
– Gather all the deeds, prior surveys, easements, road right-of-ways that affect your property
– Set all your corners that mark out your deeds description
– Provide you with a detailed map of the corners set and found, as well as the improvements and how they relate to these set and found corners
– Provide you with as many copies as you would like of this detailed map, as well as make it a part of public recorded. All maps will be signed and sealed by professional land surveyor
– Latest technology and equipment
– Timely completion of surveys
Surveying Services
– Plats of Survey
– Certified Survey maps (CSM)
– Construction Staking
– Typographic Surveys
– FEMA Floodplain Submittals
– Right-of-Way Plats
– Legal Descriptions
– Easement Descriptions
– Digital Terrain Modeling
– Rural and Urban Subdivision Platting and Development
– WisDOT/County/Local Right-of-Way and Construction Projects
– Remonumentation of Public Land Survey Corners
– Condominium Plats